Location
: Mesa, Arizona
Project Team
: Dennis Pieprz (Principal in charge), Isabel Zempel (Participating principal), Romil Sheth (Lead urban designer), Mengchen Xia (Urban designer)
Status
: Masterplan completed in Aug. 2017
Work Completed at Sasaki
Dating back 12,000 years, the site of the Polytechnic Campus has an extensive history. The land served as an emergent site for the Hohokam, an ancient Native American culture, and as a sacred site for the Gila River Indians. Moving forward, there is a tremendous opportunity to develop an inclusive framework that celebrates the cultural significance of the site and integrates it with the development of a 21st-century research district and academic campus. By harnessing the climatic and contextual location of the campus within the global arid belt, the framework for the project derives from the native arroyo landscape ecosystem, where plant communities follow valuable surface runoff in the desert to form unique patterns on the ground. We propose that loci and other scattered archaeological sites be protected and developed into a central park that celebrates native cultural, historical, and natural heritage.
The vision for the innovation district is supported through the following primary organizing principles: 1) the future campus should have a strong connection with the existing campus to create a healthy synergy between Arizona State University (ASU) and the innovation district, 2) the collaboration should be facilitated through a robust pedestrian network connecting a series of integrated research clusters, 3) the design must honor the site's history and ecology, 4) a contiguous public realm that connects the different research districts should be developed, and 5) a series of social and recreational amenities should be strategically integrated, along with housing and "active hearts" within each cluster to facilitate collaboration.
By doing so, the ASU Polytechnic Innovation District serves as a physical manifestation of the university's values, establishing a clear and compelling vision for a new paradigm of research and innovation. Synthesizing a deeply integrated web of pedestrian networks, research clusters, and a concentrated urban fabric, the new district aims to not only celebrate the history and ecology of the site but also to forge a robust and vibrant research nexus where global issues and ideas can be freely explored.
The project site contains significant artifacts, including pottery, burial sites, pit houses, and two underground ponds from early periods.
Establish a green corridor inspired by desert arroyo landscape system that respects the archaeological remains on site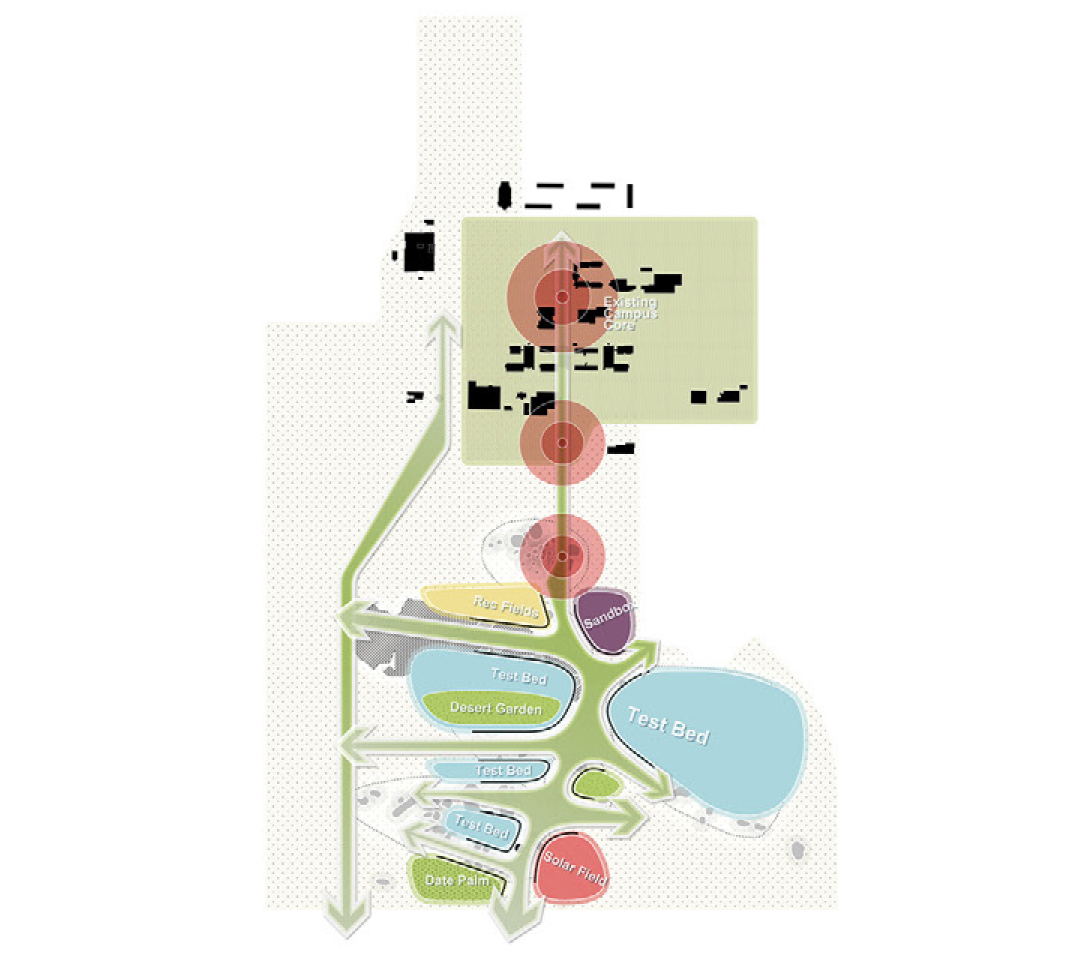 Programs are developed along the landscape to establish an animated corridor










Proposed campus is connected by a loop system that is surrounded by a natural desert landscape. A system that is designed for both students and desert wildlife. Planting elements are strategically placed to avoid disturbance to archaeological remains buried underground. The proposed landscape is a reinterpretation of the natural desert arroyo system and a celebration of cultures indigenous to the area. Within the campus, spaces between buildings become platforms to host activities. Social and recreational amenities are also placed in such areas to facilitate collaboration.