Université Euro-Méditerranéenne de Fès
Location
: Fès, Morocco
Collaborator
: Nadaaa, ACP, Omar Alaoui
Status
: Masterplan completed in May 2014
The competition to design a campus for the Euro-Mediterranean University of Fez (EURO-MED) was launched in late February 2014 by the Union for the Mediterranean, a partnership that aims to create unity among Euro-Mediterranean countries. The objective of the project was to compose an environment that established a platform for discourse and correspondence between the Mediterranean's diverse cultures, as well as to provide a medium through which to collaborate with universities in European countries. Morocco was the chosen location for the new university because of its balance of Arabic, African, and European influence. The 17-hectare site is located on the outskirts of Fez, Morocco's third largest city.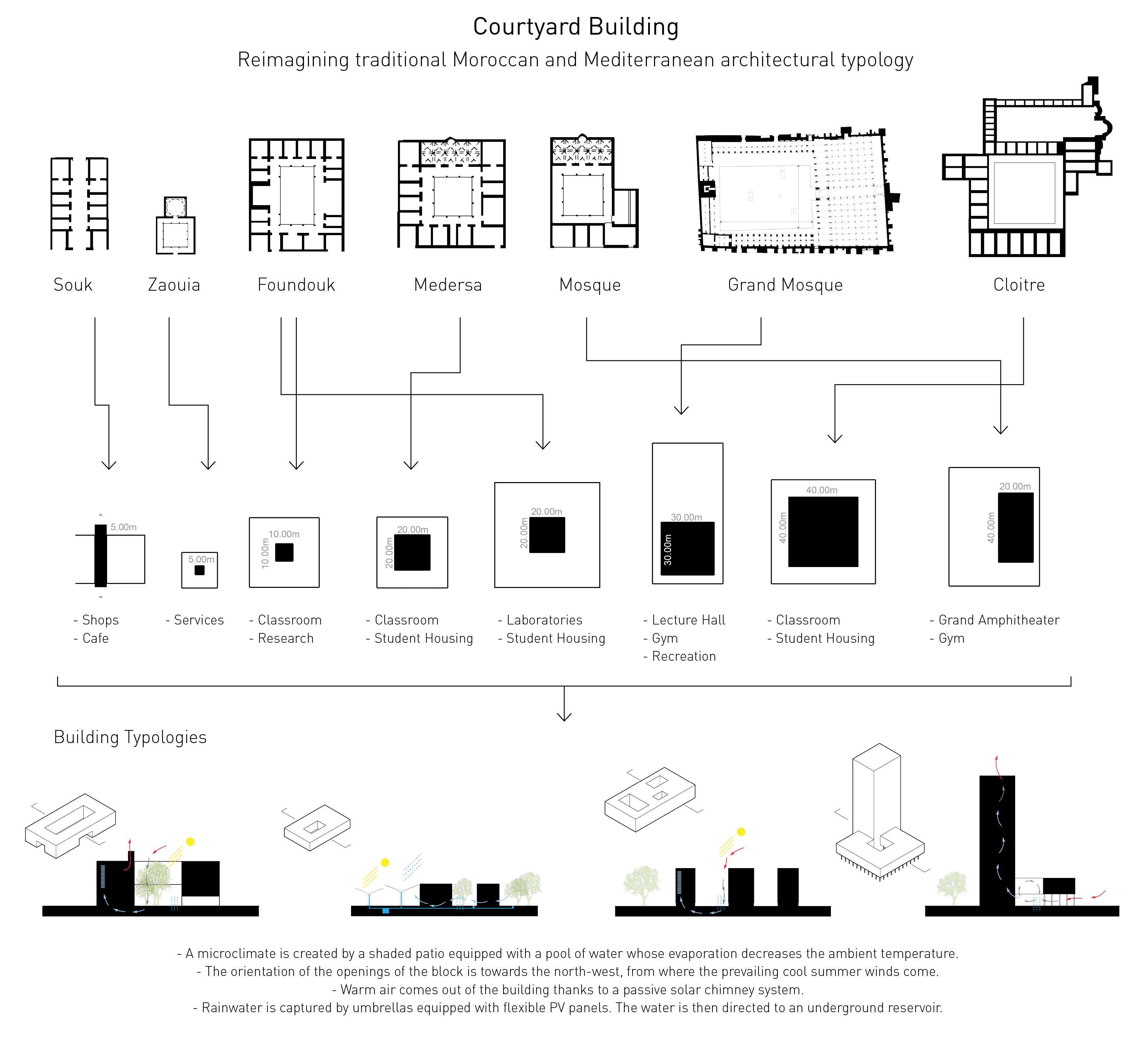 The masterplan of the EURO-MED is a reinterpretation of traditional Moroccan and Mediterranean architecture. It is based on the following fundamental concepts that connect the campus to the city of Fez.

1. The creation of a public realm at the entrance to the campus that coexists with the existing olive trees. The public zone acts as an interface between the city and the university, and between the general public and the students/professors. It establishes the campus as an active element of social and urban development within the suburban area that surrounds it. The existing olive grove on site is preserved and celebrated at the entrance of the new campus. Olive trees, highly symbolic, reflect the site's immediate agricultural context and relate to the identity of the city of Fez
2. The reinterpretation of the principles of urbanism common in north and south Mediterranean traditions, namely, dense and homogeneous urban fabrics, intertwined pedestrian networks, and a hierarchy between public and private spaces.





3. The centering of buildings around courtyards. Our extensive research led us to the conclusion that the courtyard, so typical of Fez, is the architectural form most suitable for the climate. The simplicity of this form also allows the most adaptability for various uses. Considering both the speed of execution and its economic benefits , the form is kept as a recurring element across the campus. Adaptions were made according to each program , including altering the proportions of the courtyards based on whether more light or shade was needed.